Cookie-Einstellungen
Unser Onlineshop benutzt Cookies, die für den technischen Betrieb erforderlich sind und stets gesetzt werden. Andere Cookies, die den Komfort bei der Benutzung erhöhen, der Direktwerbung dienen oder die Interaktion mit anderen Websites und sozialen Netzwerken vereinfachen sollen, werden nur mit Ihrer Zustimmung gesetzt.
Diese Cookies sind für die Grundfunktionen des Shops notwendig.
"Alle Cookies ablehnen" Cookie
"Alle Cookies annehmen" Cookie
Kundenspezifisches Caching
Diese Cookies werden genutzt um das Einkaufserlebnis noch ansprechender zu gestalten, beispielsweise für die Wiedererkennung des Besuchers.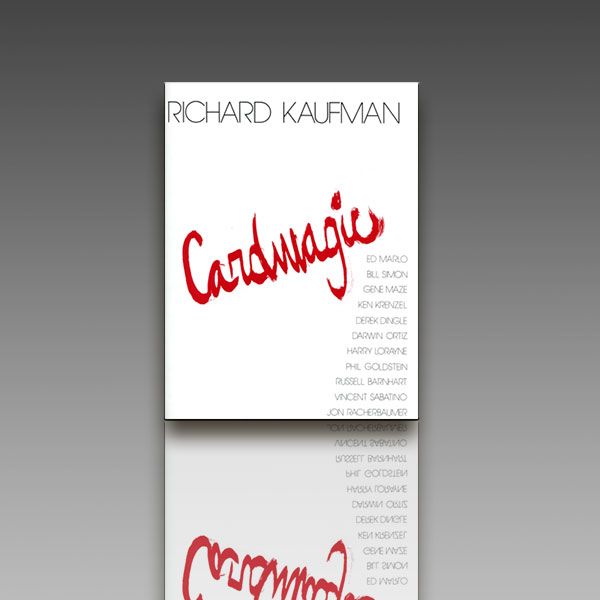 Card Magic by Richard Kaufmann
Bestell-Nr.:

MF218901

Vorteile

Versand innerhalb von 24h*
14 Tage Geld-Zurück-Garantie
Kostenlose Service-Hotline
Lying in a dark undisturbed drawer for decades lay Harry Houdini's copy of THE DISCOVERIE OF...
mehr
Lying in a dark undisturbed drawer for decades lay Harry Houdini's copy of THE DISCOVERIE OF WITCHCRAFT, a book written by Reginald Scot in 1584. It is the first book in the English language to describe sleight of hand tricks, and Houdini's copy was very special because it held the key to a mystery which fascinated magicians for centuries. Just who did Reginald Scot obtain all his information from - who was the magician who gave away some of the greatest and most closely guarded secrets of conjuring? The answer lay in the barely legible notes Houdini had scribbled in the margins. 'Shakespeare's copy, see in rear cover,' read Houdini's less than cryptic message. Inside the back of the book were William Shakespeare's handwritten notes of about fifty tricks and sleights, some of which appeared in THE DISCOVERIE OF WITCHCRAFT.

The secret is now fully revealed for the very first time: the young Will Shakespeare, while having just fathered a child, needed money, so he took the job.

In a story as exciting as any detective novel, author Richard Kaufman deciphered Shakespeare's ridiculous scribbling...and has written this book, which includes forty-five effects by Shakespeare (some lousy ones, too - he wasn't always clever), and another twenty contributions from some of the world's greatest cardmen, including: Derek Dingle, Edward Marlo, Jon Racherbaumer, Harry Lorayne, Gene Maze, Darwin Ortiz, Ken Krenzel, Bill Simon, Phil Goldstein, and Russell Barnhart....

Even while Shakespeare is spinning in his grave, over seven-hundred animated illustrations that seem to move combined with Richard Kaufman's superb text will clearly teach you many fine card routines you will be proud to add to your repertoire.

Approximatley: 184 pages with 727 black and white illustrations
Bewertungen lesen, schreiben und diskutieren...
mehr
Kundenbewertungen für "Card Magic by Richard Kaufmann"
Bewertung schreiben
Bewertungen werden nach Überprüfung freigeschaltet.