Cookie-Einstellungen
Unser Onlineshop benutzt Cookies, die für den technischen Betrieb erforderlich sind und stets gesetzt werden. Andere Cookies, die den Komfort bei der Benutzung erhöhen, der Direktwerbung dienen oder die Interaktion mit anderen Websites und sozialen Netzwerken vereinfachen sollen, werden nur mit Ihrer Zustimmung gesetzt.
Diese Cookies sind für die Grundfunktionen des Shops notwendig.
"Alle Cookies ablehnen" Cookie
"Alle Cookies annehmen" Cookie
Kundenspezifisches Caching
Diese Cookies werden genutzt um das Einkaufserlebnis noch ansprechender zu gestalten, beispielsweise für die Wiedererkennung des Besuchers.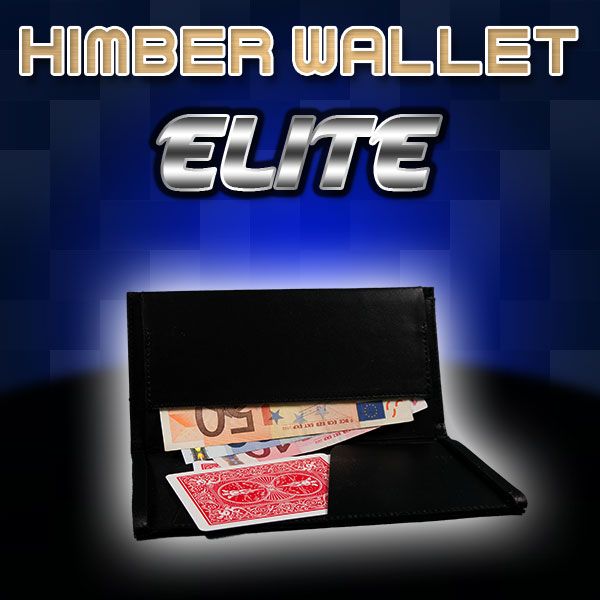 Himber Wallet Elite
Vorteile
Versand innerhalb von 24h*
14 Tage Geld-Zurück-Garantie
Kostenlose Service-Hotline
Zusätzlich zur Himber Wallet erhalten Sie ein Heft, inspiriert und unterstützt von Ted Lesley,...
mehr
Zusätzlich zur Himber Wallet erhalten Sie ein Heft, inspiriert und unterstützt von Ted Lesley, dass folgende Effekte enthält:


The Devastators
Dies ist der ein Effekt von Al Man aus seinem hervorragendem Heft "The H Factor". Eines der tollsten Künststücke mit dem Himber-Wallet. Der Vorführende nimmt einen Umschlag aus der Brieftasche und legt ihn sichtbar auf den Tisch. Ein Zuschauer wird gebeten, ein Kartenspiel zu mischen und drei beliebige Karten zu wählen. Diese werden verdeckt auf den Tisch gelegt. Nachdem er dies getan hat, öffnet der Vorführende den Umschlag, der sich die ganze Zeit sichtbar auf dem Tisch befand und entnimmt ihm drei Karten. Wenn der Zuschauer seine Karten umdreht, ist zu sehen, dass sie mit denen aus dem Umschlag übereinstimmen.
Flight of the Psycards
Es handelt sich um eine der besten Methoden von "Karten zu Brieftasche". Hier wird nichts forciert und auch nichts palmiert. Das Spiel wird nicht berührt und die Karten sind tatsächlich frei gewählt. Der Trick kann sowohl beim Table Hopping als auch im Stand-Up Bereich vorgeführt werden. Der Vorführende legt seine Brieftasche auf den Tisch. Dann gibt er ein Kartenspiel einem Zuschauer mit der Bitte, die Karten bildoben auf dem Tisch auszustreifen. Drei Zuschauer werden gebeten, völlig frei eine Karte zu wählen und diese zu unterschreiben. Anschließend soll ein Zuschauer die Karten zusammenschieben und sie bildunten drehen. Ein weiterer Zuschauer wird gebeten, das Spiel einmal abzuheben. Die Brieftasche wird geöffnet und die drei unterschriebenen Karten befinden sich nun tatsächlich in der Brieftasche!
Homer
Ein Effekt für das Stand-Up. Die unterschriebene Karte wandert in die Brieftasche, obwohl sie von einem anderem Zuschauer gehalten wird.
The "H" Factor
Eine der besten Schlagzeilen-Vorhersagen, die es zur Zeit gibt. Sie sind nicht nur in der Lage, die Schlagzeilen Wochen zuvor zu nennen, sondern auch noch welche Schlagzeile der Zuschauer aus mehreren auswählt. Sie erhalten das Manuskript mit den Routinen von Al Man, Scotty York und Gary Kurtz, in dem außer den beschriebenen Effekten noch viel Nützliches und vor allem der richtige Umgang mit der Himber Wallet beschieben wird. Dazu liefern wir Ihnen eine qualitativ hochwertige Brieftasche, so dass Sie sofort loslegen können. Alle beschriebenen Effekte sind im Wesentlichen ohne Griffe vorzuführen.
Bewertungen lesen, schreiben und diskutieren...
mehr
Kundenbewertungen für "Himber Wallet Elite"
Bewertung schreiben
Bewertungen werden nach Überprüfung freigeschaltet.