Cookie-Einstellungen
Unser Onlineshop benutzt Cookies, die für den technischen Betrieb erforderlich sind und stets gesetzt werden. Andere Cookies, die den Komfort bei der Benutzung erhöhen, der Direktwerbung dienen oder die Interaktion mit anderen Websites und sozialen Netzwerken vereinfachen sollen, werden nur mit Ihrer Zustimmung gesetzt.
Diese Cookies sind für die Grundfunktionen des Shops notwendig.
"Alle Cookies ablehnen" Cookie
"Alle Cookies annehmen" Cookie
Kundenspezifisches Caching
Diese Cookies werden genutzt um das Einkaufserlebnis noch ansprechender zu gestalten, beispielsweise für die Wiedererkennung des Besuchers.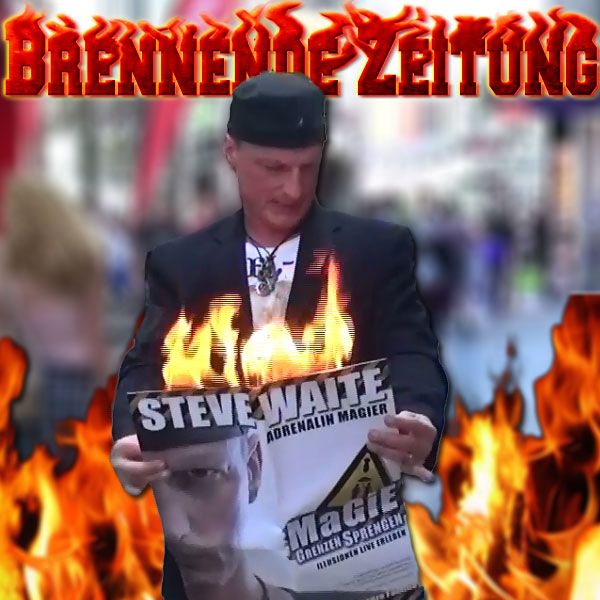 Brennende Zeitung
Bestell-Nr.:

MF21638

Vorteile

Versand innerhalb von 24h*
14 Tage Geld-Zurück-Garantie
Kostenlose Service-Hotline
Was für ein Hingucker! Sie lesen in einer Zeitung und plötzlich schlagen hohe Flammen aus der...
mehr
Was für ein Hingucker! Sie lesen in einer Zeitung und plötzlich schlagen hohe Flammen aus der Zeitung hervor. Genauso schnell wie die Flammen erscheinen, verschwinden Sie auch wieder.
Von uns bekommen Sie nur das clevere Gimmick geleiefert. In sekundenschnelle können Sie es ohne Bastelarbeit in die von Ihnen gewünschte Zeitung einbauen. Dabei ist es völlig egal, ob Sie eine Zeitung, eine Zeitschrift oder auch ein Buch verwenden. Das clever gestaltete Gimmick ist so gebaut, dass Sie auch in der Lage sind, anschließend mit der gleichen Zeitung ein Zeitungzerreißen vorzuführen.
Das Gimmick ist immer wieder verwendbar und arbeitet mit normalem Feuerzeugbenzin. Wir liefern Ihnen aber aus versandtechnischen Gründen nur das Gimmick, geben Ihnen aber eine entsprechende Quelle an, wo Sie Feuerzeugbenzin günstig kaufen können.
Have you always wanted a fire book but thought they looked really fake and way too hokey? Have you ever wanted to open up a real book and have the flames come blazing out! Then slam the book shut and immediately open the book to show the pages unharmed! Now you can, this gimmick is the only one like it on the market. Transform any book you want into a blazing fire book, also known as a hot book.
Transform all your books into Fire Books: Bibles, School Books, Text Books, Harry Potter Books, Spell Books, Resturaunt Menus, Day Planners, etc...
Just flip thru the pages of your favorite book and any time you desire during your show, open the book and watch it burst into flames! Slam the book shut and immediately flip thru the pages of the book, showing the book completely unharmed! WOW!!!

MUST BE 18 TO ORDER THIS PRODUCT AND ASSUME ALL LIABILITIES AS THIS PRODUCT USES REAL FIRE. WE ASSUME NO LIABILITY WITH THE USE OR MISUSE OF THIS PRODUCT OR THE KNOWLEDGE THEREOF (INFO LEARNED IN THE OWNERS MANUAL OR FROM OUR VIDEOS). BY PURCHASING THIS PRODUCT YOU AGREE TO BEING 18 YEARS OF AGE AND ASSUMING ALL LIABILITIES RELATING TO THIS PRODUCT. AS WITH THE USE OF THIS AND ALL FIRE RELATED PRODUCTS PLEASE FOLLOW ALL LAWS AND REGULATIONS PUT FORTH BY YOUR FIRE MARSHAL, PYRO TECH, LOCAL AND FEDERAL FIRE CODES, ETC... AND HAVE A PYRO TECH AND A FIRE WATCH ON SITE WHEN PERFORMING THIS AND ANY FIRE RELATED PRODUCTS.
NOT RECOMMENDED FOR PEOPLE UNDER 18 YEARS OF AGE. ANY BOOK REFERS TO BOOKS WITH A MINIMAL COVER SIZE OF 5 1/2" X 8 1/2".
Bewertungen lesen, schreiben und diskutieren...
mehr
Kundenbewertungen für "Brennende Zeitung"
Bewertung schreiben
Bewertungen werden nach Überprüfung freigeschaltet.