Cookie-Einstellungen
Unser Onlineshop benutzt Cookies, die für den technischen Betrieb erforderlich sind und stets gesetzt werden. Andere Cookies, die den Komfort bei der Benutzung erhöhen, der Direktwerbung dienen oder die Interaktion mit anderen Websites und sozialen Netzwerken vereinfachen sollen, werden nur mit Ihrer Zustimmung gesetzt.
Diese Cookies sind für die Grundfunktionen des Shops notwendig.
"Alle Cookies ablehnen" Cookie
"Alle Cookies annehmen" Cookie
Kundenspezifisches Caching
Diese Cookies werden genutzt um das Einkaufserlebnis noch ansprechender zu gestalten, beispielsweise für die Wiedererkennung des Besuchers.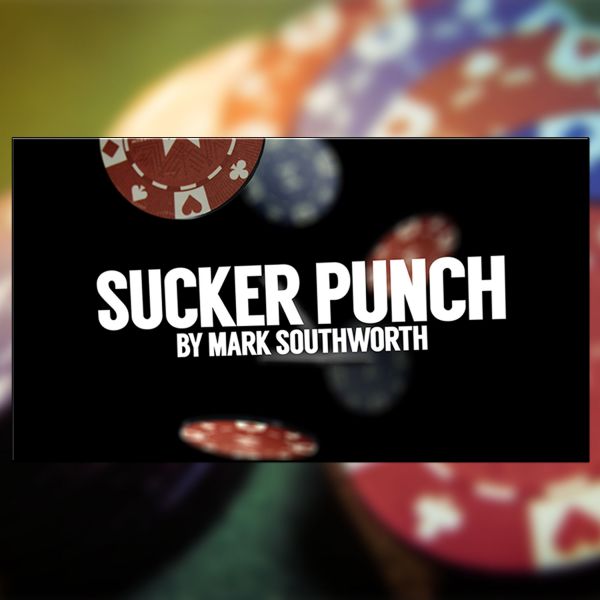 Sucker Punch by Mark Southworth
Vorteile
Versand innerhalb von 24h*
14 Tage Geld-Zurück-Garantie
Kostenlose Service-Hotline
Sucker Punch ist ein speziell für Zauberkünstler entwickeltes Pokerchip-Set von Mark...
mehr
Sucker Punch ist ein speziell für Zauberkünstler entwickeltes Pokerchip-Set von Mark Southworth. Dieses qualitativ hochwertige Chip-Set bietet unzählige Trickmöglichkeiten.Die Handhabung sowie die Anwendungsmöglichkeiten werden Ihnen von keinem Geringeren als Eric Jones in einer ausführlichen Videoanleitung gezeigt.
Nehmen Sie anstatt Münzen doch einfach mal Chips, die gegenüber von Münzen wesentliche Vorteile aufweisen:
die Chips haben die perfekte Größe und einen guten Klang
die Ränder der Chips sind scharfkantig, was das Handling von Palmagen enorm erleichtert
sehr präzise Passung der Shells, so dass diese beidseitig vorzeigbar sind
hoher Kontrast (blau / rot)
sie benutzen keine Fremdwährung
Gerade bei der Zauberei mit Münzen ergeben sich immer wieder Unzulänglichkeiten, die oft nur schwer zu vermeiden sind: Manche Münzen sind zu klein für bestimmte Techniken. Das Ausweichen auf andere/größere Münzen (z.B. Dollar) wirkt auf die Zuschauer zuweilen verdächtig. Und spätestens wenn man eine Münze mit einer scharfen Kante benötigt, steht man oft vor einer langen Suche. Mit Sucker Punch von Mark Southworth gehören diese Probleme nun endgültig der Vergangenheit an, denn dieses Chip-Set wurde speziell für die Zauberei entwickelt.
Mit Sucker Punch erlernen Sie unter anderem folgende Zaubertricks:
3 Fly - ein absoluter Klassiker der Münzenmagie
Sun & Moon - ein Copper-Silver-Transfer mit hoher Visualität
Circular Change - ein sehr visueller Color Change
Trinity - drei Pokerchips erscheinen und verschwinden auf eine unglaublich visuelle Art
Through - ein Pokerchip wird durch eine Glasplatte hindurch gezaubert... das muss man gesehen haben!
In the Hands Change - hier wandern die Chips auf magische Weise in der Hand des Zuschauers umher.
Egal ob Sie Neuling oder Profi sind... Sucker Punch ist eine tolle Sache für jeden der mit Münzen bzw. Chips zaubert. Sie erhalten insgesamt 14 (vierzehn) Chips, mit denen sich z.B Glastische durchdringen läßt. Oder lassen Sie einen Chip zwischen Ihren Fingern rotieren und sich wie von Geisterhand vor und zurück bewegen, so als würde er ein Eigenleben führen. Mit Sucker Punch sind unglaubliche Farbwechsel und Platztauschroutinen möglich , die schier unmöglich erscheinen und in einem Tempo vollführt werden, dass es Ihren Zuschauern den Atem rauben wird!!
As many magicians know, coin gaffs can take traditional coin magic to extreme levels, yet they traditionally come with a hefty price tag. Mark Southworth took the best of the best in coin gaffs and infused them into a custom set of poker chips for a fraction of the cost. Sucker Punch is more than just a high quality yet inexpensive alternative to traditional coin gaffs. Within this single box is a sleek and elegant fourteen-piece poker chip set that empowers you to create an endless array of miracles like you would with any of those four hundred dollar sets of coin gaffs. Vanishes, productions, color changes, transpositions, and penetrations, just about any trick you've ever wanted to perform with coins, are all within the fistful of impossibilities that you can perform with Sucker Punch!

Sucker Punch boldly solves a problem that has plagued copper and silver coin routines - contrast. Compared to their coin counterparts, the marked contrast and larger size of the red and blue poker chips is far more striking and visible to larger audiences, making this the perfect tool for any magician looking to hit an audience hard with copper and silver coin magic.

And just to get you started, Eric Jones offers his coin mastery to teach you six uber-visual yet practical effects that you can perform with the Sucker Punch set. Eric guides you through the nuances and intricacies of Sucker Punch in an hour long detailed online instruction. Whether you're a first time novice or well-versed master, Eric Jones will inspire you to take the work included with Sucker Punch and combine it with routines that you may already perform to make this all your own.

Sucker Punch includes:
3 Fly - A classic 3 fly routine
Sun & Moon - A copper/silver coin routine adapted for the Sucker Punch set
Circular Change - A simple yet beautiful color change
In the Hands Change - A poker chip transposition that happens in the spectator's hand
Trinity - A very clean production and vanish of three poker chips
Through - A poker chip through glass penetration that you have to see to believe
Fourteen-piece poker chip set - you'll have to find this one out for yourself!
No matter your skill level, you'll be sure to catch them off-guard with Sucker Punch!
Bewertungen lesen, schreiben und diskutieren...
mehr
Kundenbewertungen für "Sucker Punch by Mark Southworth"
Bewertung schreiben
Bewertungen werden nach Überprüfung freigeschaltet.