Cookie-Einstellungen
Unser Onlineshop benutzt Cookies, die für den technischen Betrieb erforderlich sind und stets gesetzt werden. Andere Cookies, die den Komfort bei der Benutzung erhöhen, der Direktwerbung dienen oder die Interaktion mit anderen Websites und sozialen Netzwerken vereinfachen sollen, werden nur mit Ihrer Zustimmung gesetzt.
Diese Cookies sind für die Grundfunktionen des Shops notwendig.
"Alle Cookies ablehnen" Cookie
"Alle Cookies annehmen" Cookie
Kundenspezifisches Caching
Diese Cookies werden genutzt um das Einkaufserlebnis noch ansprechender zu gestalten, beispielsweise für die Wiedererkennung des Besuchers.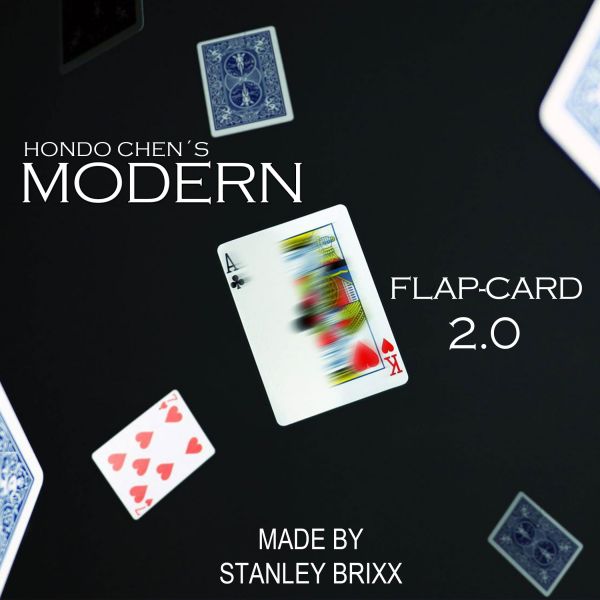 Modern Flap Card 2.0
Bestell-Nr.:

MF22359

Vorteile

Versand innerhalb von 24h*
14 Tage Geld-Zurück-Garantie
Kostenlose Service-Hotline
Unsere Modern Flap Cards 2.0 werden von Stanley Brixx in höchster Qualität und...
mehr
Unsere Modern Flap Cards 2.0 werden von Stanley Brixx in höchster Qualität und Handarbeit "Made in Germany" mit Qualitätszertifikat von Hondo Chen hergestellt. Stanley Brixx ist authorisierter Hersteller von Modern Flap Cards in Deutschland und für den europäischen Markt. Sie erhalten ein Spitzenprodukt, wie wir es zuvor noch nie gesehen haben!
Hondo Chen hat nach vielen Monaten intensiver Recherche der klassischen Klappkarte ein neues Design gegeben und sie so weiterentwickelt, dass jetzt schnellere Verwandlungen möglich sind. Die sonst sichtbare Falz ist nahezu eliminiert, wie auch Unebenheiten auf der Kartenoberfläche. Somit ist jetzt eine Vorführung mit umringtem Publikum auch im Close-Up Bereich möglich. Egal ob Verwandlungen nach Assen, Zahlenkarten, Bildkarten oder Blanko Karten. Die Modern Flap Card 2.0 besitzt eine Arretierung mit der es möglich ist, die Verwandlung zu einem bestimmten Zeitpunkt ausführen zu können, während sich die Karte noch im Spiel befindet. Die größte Innovation ist jedoch, daß jetzt zwei Verwandlungen mit einer Karte möglich sind, es können bis zu drei verschiedene Kartenwerte gezeigt werden, um das Publikum zu verblüffen und zu erstaunen! Bitte verwechseln Sie diese Karte nicht mit der überthaupt nicht vergleichbaren amerikanischen Ausführung der Klappkarte. Wir lkiefern Ihnen die Modern Flap Cards in 2 Versionen. Einmal verwandelt sich eine Bildkarte in eine andere Bildkarte und einmal verwandelt sich eine Blankokarte (die Sie selber mit einem Marker beschriften können) in eine Bildkarte. Bitte wählen Sie die von Ihen gewünschte Version aus.
Sie erhalten das Gimmick vorführfertig, den Zugang zum kompletten Tutorial und den Videos zur Benutzung und Reparatur mit englischen Untertiteln, Ersatzfaden und eine bebilderte deutschsprachige Routine in Form von zwei Booklets (eines nur mit den Bildern und eines mit derals Booklet von Stanley Brixx.
Inhalt des Tutorials:
01. Intro
02. Preparation
03. Basic Flap Card Building- In Frame Flap Card
04. Card Splitting
05. The Midline Jig
06. Flat Paint Spraying
07. Gapless Flap Card – Picture Cards
08. Gapless Flap Card- Aces, Blank and Number Cards
09. Gapless Double Flap Card- Picture Cards
10. Gapless Double Flap Card- RGB
11. Gapless Double Flap Card- BlurRed
12. Gapless Double Flap Card- Aces, Blank and Number Cards
13. Final Thought and Credits
14. Bonus
Gesamte Laufzeit: 2 Stunden 54 Minuten
Bewertungen lesen, schreiben und diskutieren...
mehr
Kundenbewertungen für "Modern Flap Card 2.0"
Bewertung schreiben
Bewertungen werden nach Überprüfung freigeschaltet.