Cookie-Einstellungen
Unser Onlineshop benutzt Cookies, die für den technischen Betrieb erforderlich sind und stets gesetzt werden. Andere Cookies, die den Komfort bei der Benutzung erhöhen, der Direktwerbung dienen oder die Interaktion mit anderen Websites und sozialen Netzwerken vereinfachen sollen, werden nur mit Ihrer Zustimmung gesetzt.
Diese Cookies sind für die Grundfunktionen des Shops notwendig.
"Alle Cookies ablehnen" Cookie
"Alle Cookies annehmen" Cookie
Kundenspezifisches Caching
Diese Cookies werden genutzt um das Einkaufserlebnis noch ansprechender zu gestalten, beispielsweise für die Wiedererkennung des Besuchers.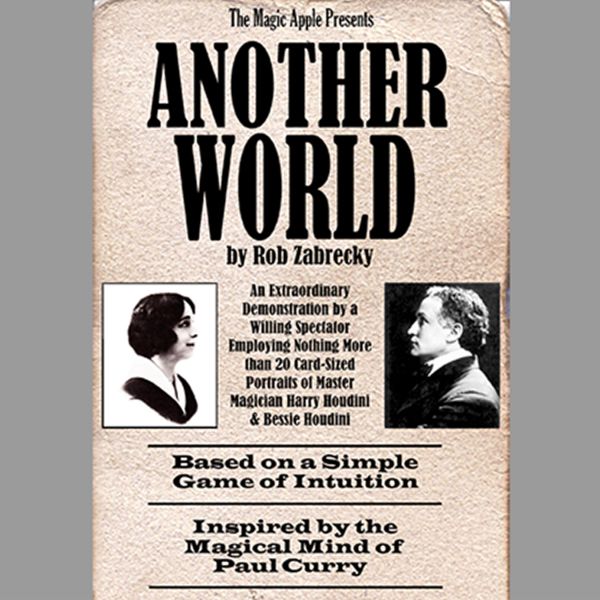 Another World by Rob Zabrecky and Magic Apple
Vorteile
Versand innerhalb von 24h*
14 Tage Geld-Zurück-Garantie
Kostenlose Service-Hotline
"Out of the World" darf ohne Übertreibung wohl als einer der besten Kartentricks der Welt...
mehr
"Out of the World" darf ohne Übertreibung wohl als einer der besten Kartentricks der Welt bezeichnet werden. Der Schöpfer ist niemand anderes als Paul Curry. Bei diesem Kartentrick sortiert der Zuschauer die Karten in lauter rote und schwarze Karten, obwohl er nur die Rückseiten sieht. Das Ganze funktioniert automatisch und ohne Fingerfertigkeit.
Another World ist nun eine Variante dieses Kunststückes. Dabei wird kein Kartenspiel sondern es werden je 10 Karten mit dem Foto von Harry Houdini dem Entfesselungskünstler und 10 Karten mit seiner Frau Bessie verwendet.
Der Zauberer deckt jeweils eine Karte mit dem Bild von Harry und eine mit dem Bild von Bessie auf. Dann hält er einem Zuschauer die verdeckten Karten hin und bittet ihn, für jede Karte zu raten, ob sie Harry oder Bessie zeigt. Daraufhin legt der Zauberer sie jeweils unter die entsprechende aufgedeckte Karte. Nach einer Weile deckt er noch einmal zwei Karten aus den restlichen Karten in seiner Hand auf und legt sie unter die beiden Kartenstapel auf dem Tisch – in umgekehrter Position: Bessie auf den Stapel, der mit einem Bild von Harry anfängt und Harry auf den Stapel von Bessie. Am Ende sind die 20 Bildkarten von Harry und Bessie also auf vier verdeckte Stapeln verteilt. Die Spannung steigt, der Zauberer deckt die Karten auf! Ein Wunder ist geschehen: Alle Karten in den beiden Houdini-Stapeln zeigen tatsächlich Bilder von Houdini! Und alle Karten in den beiden Bessie-Stapeln sind von Bessie! Der Zuschauer muss hellseherische Fähigkeiten besitzen – oder ist es vielleicht doch eher der Zauberer!?
Das Kunststück ist absolut einfach und ohne Fingerfertigkeit auszuführen
In Sekunden ist alles wieder resettet und Sie sind für die nächste Vorführung bereit
Komplett durch den Zuschauer prüfbar.
Sie erhalten die speziell angefertigte Karten von der United States Playing Card Company und einen englischsprachigen link, der Ihnen alles genauestens erklärt.
Bewertungen lesen, schreiben und diskutieren...
mehr
Kundenbewertungen für "Another World by Rob Zabrecky and Magic Apple"
Bewertung schreiben
Bewertungen werden nach Überprüfung freigeschaltet.